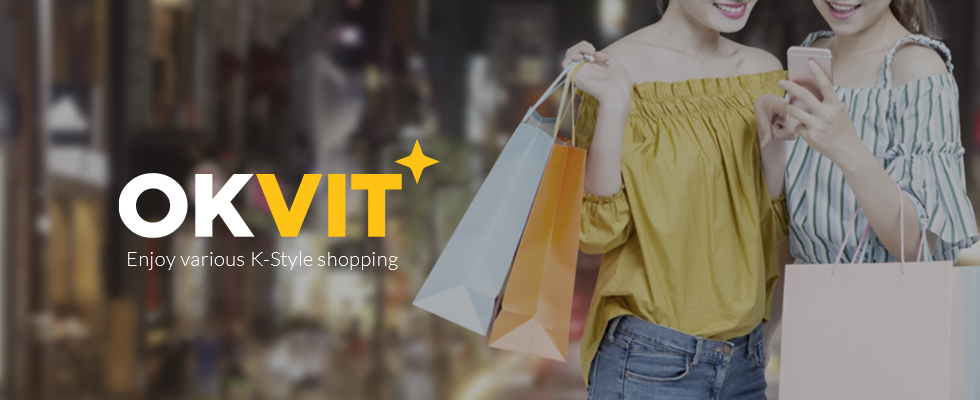 ABOUT

OKVIT

(VIT[빛] : Starlight)

OKVIT services have been newly renovated to ship Korea genuine items more fast and safe.
We are operating our website and logistics center handling all of the processes like order, payment and shipping.
We take the responsibility for safe international shipping as well as Customer Service, for overseas customer.
PARTNERS WITH

OKVIT

OKVIT has partnerships with reliable global partner for a safe and fast international shipping & payment. 
Please have comfortable and enjoyable shopping with us.
SHIPPING COMPANY
PAYMENT METHOD
MULTILINGUAL

SUPPORT & BENEFITS

Yes, OKVIT is shipping from South Korea but you can communicate with Your mother language anytime!
OKVIT provides the lowest price to the customers.
Besides, If you utilize OKVIT coupon and FREE SHIPPING event, you can ultimate the benefits from OKVIT.
WORLD-WIDE

SHIPPING

Items purchased from OKVIT should be arrived at OKVIT warehouse at first.
After we receive all the items from each shop, the international shipping will be started.
PURCHASING ITEMS FROM OKVIT

Purchasing items from OKVIT, including the domestic shipping and international shipping cost.
WAITING TO BE SHIPPED OUT FROM EACH PROVIDERS

We should wait for the items to be shipped out from each providers.
You can check the order status on your 'mypage'.
COMBINED PACKING IN OKVIT WAREHOUSE

When all the products ordered arrive, the OKVIT warehouse packs the products sent by multiple sellers in a single box.

INTERNATIONAL SHIPPING

You can check the tracking number through e-mail or text message!
INTERNATIONAL

LOGISTIC CENTER

OKVIT services by global network MALLTAIL that also manages many global branch centers in seven different countries.
KOREA SEOUL CENTER

47, Gilju-ro 425 beon-gil
Bucheon-si, Gyeonggi-do

Area :

5,476.3㎡

Performance :

15,000/monthly

CS :

1544-6571

CHINA CN CENTER

上海市闵行区莘庄镇黎安路
1615弄58号2懂2楼210室

Area :

1,389㎡

Performance :

200,000/monthly

CS :

0631-769-2952

JAPAN JP CENTER

東京都大田区東海四丁目2番
3号 2F

Area :

959㎡

Performance :

120,000/monthly

CS :

03-4500-7436

GERMANY FRA CENTER

Industriestrasse 17, Steinbach,
61449

Area :

2,050㎡

Performance :

90,000/monthly

CS :

1544-6571

ENGLAND UK CENTER

76 Buckingham Avenue,
Slough Berkshire

Area :

1,663㎡

Performance :

2,000/monthly

CS :

1544-6571

USA NJ CENTER

397 E 54h St, Elmwood Park,
NJ 07407

Area :

11,239.7m²

Performance :

900,000/monthly

CS :

1544-6571

USA DE CENTER

312 Cherry Lane, New Castle,
DE 19720

Area :

3,861.2㎡

Performance :

150,000/monthly

CS :

1544-6571

USA CA CENTER

15627 S. Broadway st, Gardena,
CA 90248

Area :

1,389㎡

Performance :

200,000/monthly

CS :

1544-6571